We work to:
Make things happen, translating national strategy and policy into local action to protect, inform and inspire.
Improve understanding and appreciation of the Chase - what makes it special and the challenges it faces.
Inspire and encourage local communities to work together for the common good of the Chase, and for the benefit of current and future generations.
The purpose of AONB designation is to conserve and enhance natural beauty.
In pursuing the primary purpose of designation, account is also taken of the needs of agriculture, forestry, and other rural industries and of the economic and social needs of local communities.  Particular regard is paid to promoting sustainable forms of social and economic development that in themselves conserve and enhance the environment.
Recreation is not an objective of designation, but the demand for recreation is met so far as this is consistent with the conservation of natural beauty and the needs of agriculture, forestry and other uses.
The Cannock Chase AONB Partnership brings together the local authorities, statutory agencies, voluntary and community bodies from the area to look after this special place, with core funding provided by the Department for Environment, Food and Rural Affairs (Defra).
Our governance structure
Joint Committee (the decision-making body)
Officers Working Group (providing steer and support to help implement the Joint Committee's decisions)
Task and Finish Groups (partners working together to implement activities and projects in the areas of Landscape and Planning, Historic Environment, Land Management and Biodiversity, and Visitor Management)
AONB Staff Unit (delivery-focused team of officers)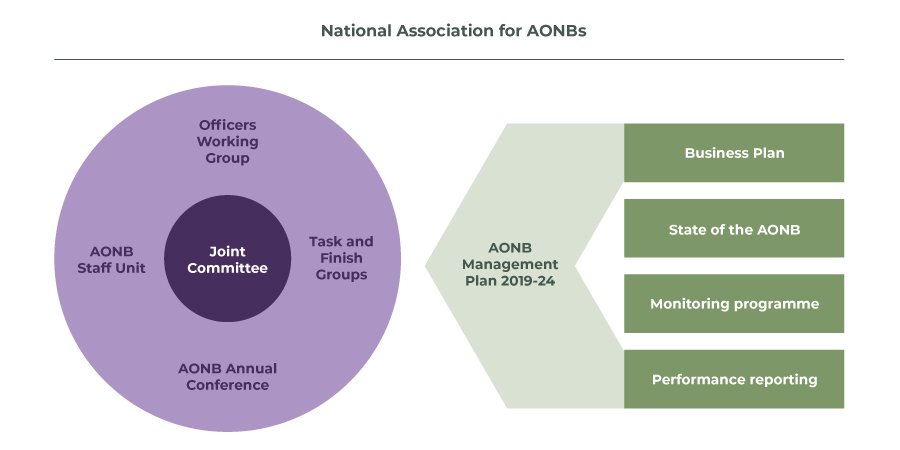 AONB Joint Committee
The joint committee is the decision-making body for Cannock Chase AONB.  You can find more information about its work by reading the papers and minutes of meetings. 
Members of the public are welcome to observe meetings of the Joint Committee which take place at least 3 times a year. Meetings will be webcast wherever possible, dependent on the venue and the available facilities. You can ask questions about the business of the Committee at Joint Committee meetings.  Please view the protocol for public questions (193 KB).
Where we are
Cannock Chase AONB lies in southern Staffordshire in the heart of the densely populated West Midlands.  A small number of people (around 10,000) live within the AONB boundary, the large majority in the villages of Cannock Wood, Gentleshaw, Upper Longdon and Brocton or on the edges of Rugeley, Hazelslade, Huntingdon and Pye Green.
A much larger number of people live on the doorstep of the AONB.  A 30 minute walk or 15 minute cycle could bring 135,000 people to the AONB (including the residents of Cannock, Rugeley and Walton-on the-Hill).  A drive of less than an hour extends the population catchment of the AONB to 3.2 million people, including Stafford, Lichfield, Burton, Tamworth, Walsall, Wolverhampton, much of Birmingham, Telford and Stoke-on-Trent.