We are all responsible for keeping Cannock Chase special and everyone can make a difference.
You can help to protect Cannock Chase by:
• Following the Cannock Chase Code
• Supporting the National Landscape partners and other organisations that look after Cannock Chase
• Using local produce and supporting local businesses
The Cannock Chase code: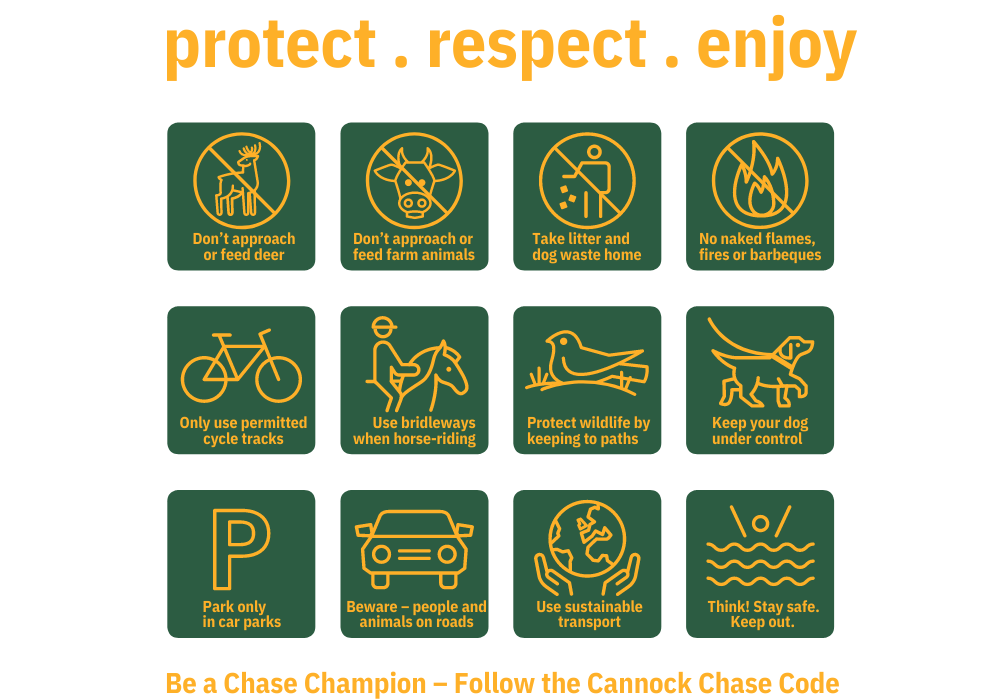 The Cannock Chase National Landscape Partnership, SAC Partnership, public and charitable landowners, emergency services and local authorities are calling on local communities and visitors to help care for Cannock Chase by following a new Code.
The Cannock Chase Code is free to use and can be downloaded.
Living, Breathing Cannock Chase National Landscape
At just 26 square miles, Cannock Chase is mainland England's smallest National Landscapes. It is also hugely popular, with over 2.5 million visitors annually coming to enjoy its open spaces for relaxation and outdoor recreation. Local environmental group ' Sustainability Matters – Stafford', has teamed up with naturalist and broadcaster Mike Dilger to prepare this short film highlighting the ongoing challenge to balance the need to protect Cannock Chase and keep it special with the demands for recreation.
Care for Nightjar and other ground nesting birds
Please be aware that from April to August the Nightjar and other ground nesting birds are breeding.
Please keep dogs on leads during this time and stick to footpaths.
Cycling, particularly at night with lights, on forest roads and tracks can be a risk to Nightjar. They rest and forage along forest roads and tracks. The use of powerful lights to illuminate forest roads and tracks could dazzle the birds, increasing the risk of the bird being run over.
Remember electric bikes are quiet, the birds will not hear you coming.
Please see West Midland Bird Club guide to ethical bird photography.