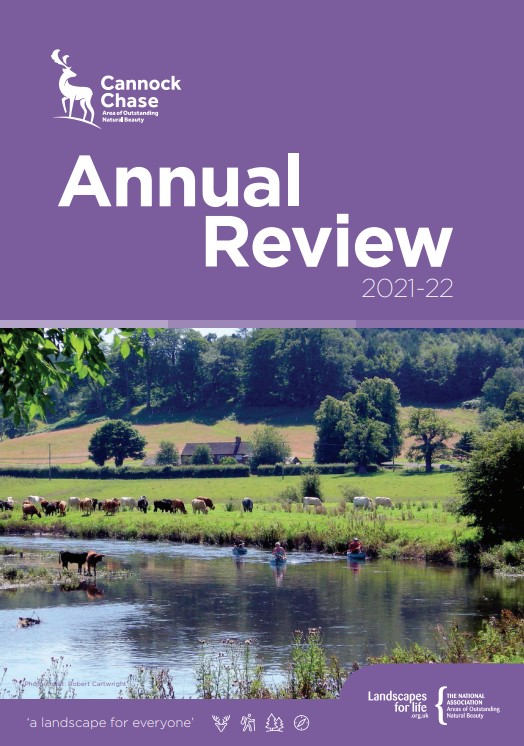 Our latest Annual Review is now ready for you to enjoy and discover what we have been doing.
The Review summarises the work undertaken by the AONB team, partner organisations and volunteers during 2021-22.  Despite another challenging year, the support and partnership across the area has continued to bring a wide range of benefits to the Cannock Chase Area of Outstanding Natural Beauty, and its local communities and visitors.
Highlights include:
Supporting our farmers through the new Farming in Protected Landscapes programme
6 environmental enhancement projects have received funding worth £1.5 million from HS2
The condition of our 5 Local Geological Sites has been assessed
New studies have improved our knowledge and understanding of deer numbers and impacts
Training practitioners in veteran tree management
Research about the apple trees on the Chase
One of the last surviving structures from WWII RAF Hednesford Camp has been conserved
The adoption of a new voluntary code to help protect Cannock Chase
Improvements to our visitor welcome
Raising children and young people's awareness and appreciation of the Chase
Supporting 4 local community groups through the AONB Sustainable Development Fund
Adopting the national AONB Arts in the Landscape Strategy
Responding to the Government's response to the Landscapes Review
Studies to better understand how inclusive, welcoming and relevant we are, and how Cannock Chase can contribute to the climate change emergency
AONB Annual Conference
Get in touch if you would like to know more about any of our activities.